PulStar
In keeping up with the latest in scientific technology to best serve our patients, we offer and utilize the PulStar in our office.
What is it?
The PulStar is a precise adjusting instrument used in the analysis and treatment of a wide range of musculoskeletal and joint problems including:
Headaches
Neck and Back Pain
Restricted Motion
Disc Problems
Muscle Spasms
Joint Pain and Stiffness
How does it work?
Each vertebrae or other joint is analyzed for proper function and then displayed as a graph on a computer screen. This data gives the Doctor and Patient precise information regarding joint function. In treatment mode, the PulStar delivers a series of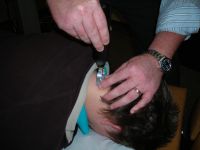 precise, computer controlled, gentle impulses to: Release Joint Fixation, Relieve Muscle Spasm, and Restore Normal Joint Function.
A post-analysis is performed and compared with the pre-treatment analysis to visualize and verify the results of treatment.
Benefits of using PulStar:
Precise computer analysis of spinal function
Easy to see and understand graphics to track problem areas and treatment progress
Analysis and treatment can be performed sitting, standing, or lying down
Gentle low-force impulses replace traditional heavier force manual adjustments - No twisting, turning, "cracking," or "popping"
Call our office today to schedule your appointment for a consultation, demonstration, or Spinal Function Analysis using PulStar!